WhatsApp Marketing is a very powerful tool to promote your business. WhatsApp is one of the world's most popular social media platforms, and it is easy to use. You can reach out to millions of people at once.
In today's guide, you'll learn everything about WhatsApp marketing, from strategies to the best WhatsApp marketing tools.
I am writing this guide after sending 3,82,500 WhatsApp messages.
Let's get started!
What is WhatsApp Marketing?
WhatsApp Marketing is a type of marketing. For instance, email marketing, messenger marketing, and application marketing. Which means promoting a brand through WhatsApp.
WhatsApp allows you to reach an immense number of people, build strong relations with potential prospects, and increase their sales.
Through WhatsApp, you can provide excellent customer service too.
How does WhatsApp Marketing Work?
The first thing you need to know about WhatsApp is that it works like any other messaging app.
You send messages to contacts or groups. But unlike other apps, when someone receives a message on WhatsApp from you, they get notified immediately.
This means that if you want to market something, you don't have to wait until someone opens the application.
Millions of people already use WhatsApp. So you can build strong relationships with your lead and convert them into customers quickly on WhatsApp.
Why Should You Use WhatsApp Marketing?
Look at the following stats:
1. WhatsApp has two billion monthly active users.
Source: Statista
2. Country-wise WhatsApp downloads from Google Play Store in 2nd quarter 2022.
3. Number of WhatsApp users by region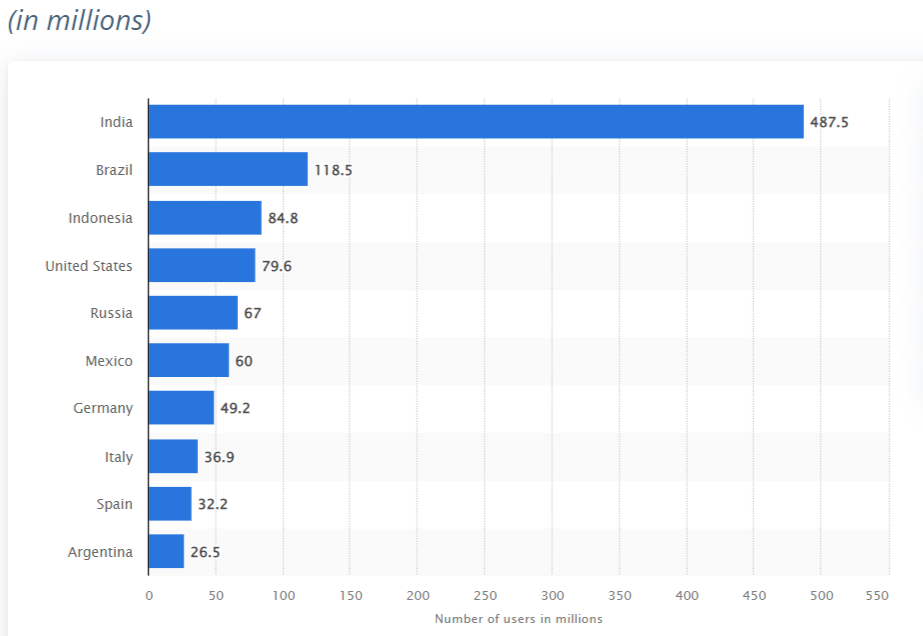 As you can see, in India there are more than 480 million people who use WhatsApp.
4. Number of mobile messages sent through WhatsApp daily.
Over 100 billion messages are sent via WhatsApp regularly.
I hope you have got the answer to why you should use WhatsApp marketing. 🙂
Advantages of WhatsApp Marketing
1. High open rates
With WhatsApp marketing, you can get up to 98% open rates every time you send a message.
Unlike email marketing, you get 20-30% open rates only. But with WhatsApp, you get almost 100% open rates.
More people will see your marketing messages and are more likely to take action and become your clients.
2. Highly personal marketing
You're reaching people's WhatsApp. They use it to talk with their loved ones.
You can leverage WhatsApp to build strong relationships with your audience and eventually convert them into paying customers.
WhatsApp is easy to use for people. Your prospects can reply to your messages instantly.
Chat marketing is the best way for small businesses to increase sales.
3. Build your personal brand.
You can provide free stuff regularly to increase your personal branding.
Imagine thousands of people consuming your content. How much impact will it create?
Use WhatsApp to understand your prospects, provide upfront value, convert them, and provide even more value. Rinse and repeat.
Is WhatsApp Marketing Helpful for Your Business?
It depends on the type of business. If your potential prospects are on WhatsApp, then you should build a WhatsApp marketing strategy.
For certain businesses, WhatsApp marketing might not be useful.
However, for most businesses, WhatsApp can be a great channel to communicate with your prospects.
For example, Dentists are using WhatsApp to book appointments. Read WhatsApp Business for Dentists guide.
In my experience, WhatsApp marketing is more powerful than email marketing.
WhatsApp Marketing Strategies for Small Businesses
Want to see real examples of businesses using WhatsApp marketing?
I will share three examples of businesses using WhatsApp marketing to interact with their customers, increase revenue, and provide excellent customer service.
Digital Scholar sells digital marketing courses.
Strategy 1: Webinar notification through WhatsApp.
Digital Scholar uses WhatsApp to send pre and post-webinar notifications on WhatsApp.
With email marketing normally, you get a 25 – 30% webinar turn-up ratio. However, when you WhatsApp, you can expect a 50 – 60% webinar turn-up ratio. Almost double of email marketing!
Why? More reach.
The messages you send on WhatsApp get read by people. So if open rates increase, more people will take action and end up attending your webinar.
Strategy 2: Deliver course access through WhatsApp
Digital Scholar sells many digital marketing courses. They deliver course access on WhatsApp. It's a great way to engage with your prospects on WhatsApp.
Digital Scholar uses both email & WhatsApp to send course access to its customers.
This simple hack can increase the course completion rate. The problem with email is your email can land in the user's junk or promotions tab. That won't happen on WhatsApp.
Strategy 3: Cart Abandon Follow up
There are many people who try to pay you, but for some reason, due to the bank issue or something, the payment fails.
In those cases, Digital Scholar sends follow up messages on WhatsApp and email. These leads are warm, and you can easily convert them by following up.
Small businesses don't need to implement 100s of strategies. You can expect decent results even if you implement 2-3 strategies successfully.
Digital Scholar strategies are simple yet effective. Just with cart abandon follow up, they were able to increase the conversions by 30%.
Key Takeaways
KISS. Keep it simple, stupid. We always try to make things complex. Start with a simple strategy and eventually build complex workflows and automation.
The goal should be to get started ASAP. For example, executing cart abandonment follow up can increase your conversions. You don't have to build a complex system for it.
When a payment fails, you can send a sequence that has 2-3 WhatsApp messages and emails every alternate day.
2. Kotak Bank
WhatsApp marketing is used by small businesses to large corporations like Kotak Bank, GoDaddy, and DishTV.
Here I am going to break down Kotak bank's WhatsApp marketing strategy. Kotak Bank uses WhatsApp Marketing to onboard new customers.
Later they use WhatsApp to send offers. Plus, Kotak allows its users to get basic account details on WhatsApp.
Kotak bank even has frequent questions and answers. This way, they can answer users' questions instantly, and it will decrease the burden on customer reps.
Key Takeaways
Know your customers. Then map out their journey and create the WhatsApp marketing flow.
You must have a clear purpose for why you're using WhatsApp.
For example, do you want to onboard customers through WhatsApp?
Or you want to add value, engage them on WhatsApp, and talk about the offer.
Pick one goal at a time and create a WhatsApp marketing plan.
For example, if you have a low course completion rate, you might consider onboarding your users through WhatsApp.
You can start delivering courses on WhatsApp. You can ask questions if you're facing a particular problem while completing the course.
3. My Client Strategy
My client was facing a low course completion rate. They already had 20K+ paid customers. But they were not able to move them in the funnel.
Reason? Because people were not completing the course.
I created a simple WhatsApp strategy for my client.
Here's what I did for my client:
Before you start, you must have WhatsApp numbers. If you collect phone numbers, it's time to check whether that number is available on WhatsApp or not.
You can use simple automation to do it. Or use WA web plus (A free chrome extension). WA Web Plus works with WhatsApp web.
Once you have collected WhatsApp contacts, you can start sending messages. Either broadcast or automated messages.
Step 1: Engagement
We created chatbots that ask questions. For example, have you completed (Course name)?
If not, you can access the course from ________.
You can create open-ended messages and engage them on WhatsApp.
The next step is segmentation.
Step 2: Segmentation
We used tags to segment the users who responded to our messages. And as per their response, we sent a different sequence.
That is a crucial step. Ensure you use segmentation to get the best results from your WhatsApp marketing effort.
Step 3: Clear doubts and upsell
When you send messages, expect to receive a good number of replies (If you ask for a response).
While answering users' doubts, we were able to upsell other courses.
You can model these strategies for your business. If you're completely new to WhatsApp marketing, I would recommend you start small.
When you see progress, you'll take more action. 🙂
To execute WhatsApp marketing, we used two tools:
1) 360 Dialog to access the official WhatsApp API
2) Chatrace for segmentation and building WhatsApp automation
And we used creativity. When you're reaching people's personal inboxes, you should be creative and mindful when sending messages. Send highly targeted, valuable messages.
Key Takeaways
Identify your business problem.
Segregate your contacts available on WhatsApp or not.
Ask relevant questions to engage the users through WhatsApp chatbots.
Analyze and optimize the results.
Rules of WhatsApp Marketing
There are some rules for WhatsApp Marketing. If you fail to comply with these rules, your WhatsApp marketing will be a failure.
1. NO spamming. You don't have the right to spam anyone with your messages. If you do it on WhatsApp, contacts will ban your number in seconds.
And this will hurt the sending reputation of your number.
2. Send highly useful messages. WhatsApp is a personal app for people. You have to be mindful when sending messages. Know what your audience wants to hear, then send messages.
Even when you want to pitch about your products or service, ask questions and then pitch.
3. Allow customers to unsubscribe from WhatsApp marketing. You must have an unsubscribe strategy for WhatsApp. Else your contacts will end up blocking your number.
And it's a bad signal for Meta. And they can stop you from sending messages on WhatsApp.
4. Engage with your contacts. Getting replies on WhatsApp is super easy. You can create chatbot quizzes or know your users better by asking meaningful questions.
Engagement will create trust, and trust will lead to a sale.
These are the basic rules of WhatsApp marketing you must follow. If you don't follow these problems, WhatsApp can ban your number.
Free WhatsApp Marketing
Don't have any budget for WhatsApp marketing? Use WhatsApp Business Application. It's free and easy to use.
WhatsApp Business app is good for small businesses or local businesses. But I know you can't send messages to thousands of people simultaneously.
However, if the WhatsApp Business app works for you, that's a sign that you need to scale up things.
You can start leveraging automation and send messages to thousands of people.
How to get started with FREE WhatsApp Marketing:
Step 1: Search "WhatsApp Business" on the Google Play Store and download the app
Step 2: Create your WhatsApp business profile.
Give it a name.
Upload a profile photo.
Write a short description of your business or the products you offer.
Add your business details like address, open hours, and products or services you offer.
Step 3: Add the products
You can list your products on WhatsApp. And when someone enquires about the product, you can send them all the details and payment link.
WhatsApp Business app offers many features like,
Labels
Greeting message
Away message
Quick replies
Short link (Invite to chat via link or QR code)
Catalog
These tools are super useful for small businesses who want to get started with WhatsApp marketing.
You don't have to pay anything to use WhatsApp Business. It's a 100% FREE application at the moment.
BEST WhatsApp Marketing Tools
There are 100s of tools. For example, if you search for the Best WhatsApp Marketing tools, you'll find many ads.
To be honest, there are crappy WhatsApp marketing tools as well. Be aware of them.
Here is the list of BEST WhatsApp Marketing Tools:
1. Interakt.io – Good for starters, and pricing plans are affordable. In addition, you can send broadcasts and build WhatsApp chatbots.
2. BotBaba.io – BotBaba pricing plans are also affordable. Easy to use software, and you build WhatsApp bots.
3. 360 Dialog for official API access – 360 Dialog offers WhatsApp API access. Using the API, you can build your own inbox solution. Or you can integrate with third-party software.
4. Respond.io for inbox feature. Right now, Meta doesn't offer an inbox function with WhatsApp API. Instead, you can use Respond.io with 360 Dialog to build WhatsApp automation and manage chats.
5. Wati.io – Wati is a similar tool like Interakt and BotBaba. Wati pricing plans are expensive compared to other tools.
6. DelightChat.io – You can use DelightChat to manage your WhatsApp inbox and provide excellent customer service. DelightChat pricing plans start at $49/month + WhatsApp API charges.
7. Get.chat – It's a WhatsApp inbox solution. You can integrate Get.Chat with 360 Dialog and manage WhatsApp chats.
8. Chatrace.com – It's an omnichannel chatbot builder. Using Chatrace you can build chatbots on WhatsApp, Instagram, Messenger, Google My Business, Telegram, Viber, SMS, and Website.
You can build advanced WhatsApp automation with Chatrace.
My favorite WhatsApp marketing tool is 360 Dialog and Chatrace. I use these two software to build WhatsApp automation.
Start WhatsApp Marketing in 4 Steps
WhatsApp gives you 1000 free conversations every month. So you can do a minimum viable test with FREE conversations.

Step 1: You must have permission to contact people on WhatsApp and the WhatsApp number of your leads/prospects.
Step 2: Send highly useful messages. For example, if your leads want to lose weight. Send messages about weight loss etc. In that way, users will engage with your messages.
Step 3: Send five to six valuable messages and then ask questions about whether they would be interested in your offer or not.
Step 4: Pitch your offer to those who want to know more about your product or service.
Rinse and repeat the same process.
WhatsApp marketing aims to build trust with your prospects quickly by sending useful information. Once you have built the trust, you just have to explain the offer. And then follow up and convert.
I use WhatsApp for my client's businesses, and it's super effective. For example, we did a broadcast to 1000 people, and we got instant sales.
If you follow up with users via email. You can combine WhatsApp too. Email marketing + WhatsApp marketing can be a deadly combination.
It can boost your business sales INSTANTLY if you do it right.
On WhatsApp, you can't spam people. They can block you immediately. Instead, send messages to people who are interested in your products or services.
That way, you'll save money, and your marketing will be much more effective.
FAQs about WhatsApp Marketing
What are the costs of WhatsApp marketing?
Meta offers 1000 free conversations every month. Unlike other marketing channels, you pay per subscriber. But with WhatsApp, you pay per message.
WhatsApp cost per message varies from country to country.
Check the pricing of WhatsApp messages country-wise:
Click Here to Download the PDF
(Cost per message in INR)
Click Here to Download the PDF
(Cost per message in USD)
For example, if you send messages to Indian users. The base plan starts at 0.48 paise/message. So if you send 10000 messages, you'll pay ₹4800.
WhatsApp charges are like a pay-as-you-go plan. The more you use it, the more you pay.
You get a cheaper cost per message if you send a high volume of messages.
What is WhatsApp Business API?
WhatsApp API allows you to send automatic WhatsApp messages. API stands for Application Programming Interface. Through API, two or multiple software communicate.
With WhatsApp API, you can build marketing automation on WhatsApp or send broadcasts.
What is WhatsApp Business?
WhatsApp Business is a FREE application for small businesses like local cake shops, grocery stores, etc. You can take orders on WhatsApp.
WhatsApp Business has functions that are beneficial for small businesses.
What is WhatsApp Marketing?
WhatsApp Marketing is similar to other marketing, such as email marketing and social media marketing.
However, you can build a deeper connection with your prospects with WhatsApp. On WhatsApp, you get high open rates and click-through rates.
As a result, a large number of people see your messages, and they're more likely to convert into customers.
Final Thoughts on WhatsApp Marketing
WhatsApp marketing can be a great way for businesses to build trust and convert leads into customers on a large scale.
On WhatsApp, you can deliver highly personalized messages.
With WhatsApp Business API, you can build marketing automation or do a broadcast.
The reach on WhatsApp is very high. You can expect up to 98% open rates, which are way higher than any marketing channel, at least right now.
If your targeted prospects are on WhatsApp. You can create a WhatsApp marketing strategy for your business.
In my case, 95% of people are on WhatsApp. So it's obvious for us to develop a WhatsApp Marketing strategy.
WhatsApp is an effective tool for promoting your business.
If you have any questions, you can ask in the comments below. I will answer!
Tools I use to execute WhatsApp Marketing strategy: